Best-selling career book shows you how to …
"Get The Job You Want, Even When No One's Hiring."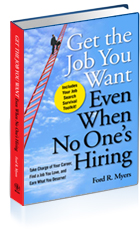 The U.S. is experiencing its worst economy since the Great Depression, and the job market is weaker than it's been in 80 years. Unemployment continues to expand with more layoffs and bankruptcies. Worst of all, it seems that no one's hiring!
But there IS a solution, and your chances are BETTER than you think!
Get The Job You Want, Even When No One's Hiring maps the new world of job search and reveals a bold, new approach to career success!
Author Ford R. Myers shares insider secrets and innovative job-search tactics that readers won't find anywhere else. By reading this book and leveraging its resources, you'll be able to get the right job much faster, and with a lot less "pain."
Download Sample Chapter
Request a sample chapter, and get our online Job Search Survival Toolkit, and more – all 100% free!

Order now from your favorite online bookseller!
Click on one of the online bookseller links below.