Ford R. Myers
President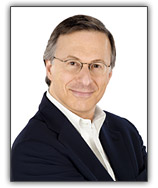 Ford R. Myers is an award-winning Career Coach, Author and Speaker, and President of Career Potential, LLC. Since 1992, he has been providing professional services in career consulting and executive coaching. After advising thousands of individuals on their careers, Ford drew from his diverse experience to create Career Potential – a powerful new approach to career management.
Through unique individual, corporate and government career programs, Career Potential, LLC helps clients take charge of their careers, create the work they love, and earn what they deserve!
Ford has served on the staffs of three prominent career management firms – Right Management Consultants, Manchester, and Lee Hecht Harrison, where he was Vice President, Director of Professional Services. In recognition of outstanding business contributions, both Right Management Consultants and Lee Hecht Harrison honored Ford with professional service awards – including the prestigious "President's Award." In 2014, Ford also won the "Delaware Valley HR Consultant of the Year Award."
He is author of two books: Get The Job You Want, Even When No One's Hiring (published by John Wiley & Sons), and The Ultimate Career Guide. Ford's articles and interviews have been featured in thousands of publications and websites, including Inc. Magazine, Fortune Magazine, Money Magazine, US News & World Report, The Wall Street Journal, The Chicago Tribune, The New York Times, The Philadelphia Inquirer, The Washington Post, The Miami Herald, The Baltimore Sun, The Dallas Morning News, The Houston Chronicle, and The Seattle Times.
Ford has conducted presentations at many organizations, including Society for Human Resource Management, The Wharton School of the University of Pennsylvania, International Society for Performance Improvement, Association for Training and Development, Princeton University, Harvard University Alumni Association, Greater Philadelphia Senior Executive Group, Urban League of Philadelphia, Temple University, Institute of Management Accountants, Eastern Pennsylvania Healthcare Executives Network, Association of Career Professionals International, and Association for Psychological Type International. He has also appeared on numerous television and radio programs, such as CNN, NBC, CBS, PBS, ABC, Comcast, CBS Radio Network, National Public Radio, SiriusXM Radio, Clear Channel Radio Network and Infinity Radio Network.
He founded the Philadelphia Area Great Careers Group, a career development and networking organization with more than 2,500 members. The organization features job search support, expert presentations, cutting-edge technology and group interaction.
Ford's education includes a Bachelor's Degree in Communications, and a Master's Degree in Human Resource Development. He has studied extensively with The Coaches' Training Institute and National Training Laboratories. Ford is also certified for Executive Career Coaching, Retirement Options, Myers-Briggs Type Indicator, Strong Interest Inventory, Leadership Effectiveness Analysis, Personal Directions and other assessments.