Laid Off? Downsized? Looking For A Career Change?
Maybe the Employer You're Looking for is YOU!
By Ford R. Myers
President, Career Potential, LLC
Here at Career Potential, it seems like we hear about businesses merging, plants closing, or production facilities moving overseas on a daily basis. These "business transitions" force out valuable employees — the very same people who often wind up in our office seeking career help. Some of these "ex-employees" — tired of riding the corporate roller coaster — are finding professional and personal success as entrepreneurs.
There are only four paths toward business ownership: (1) Start a business "from scratch;" (2) Buy a franchise; (3) Buy a non-franchise business; (4) Become a consultant. Of these options, the most popular choice by far has been to buy a franchise.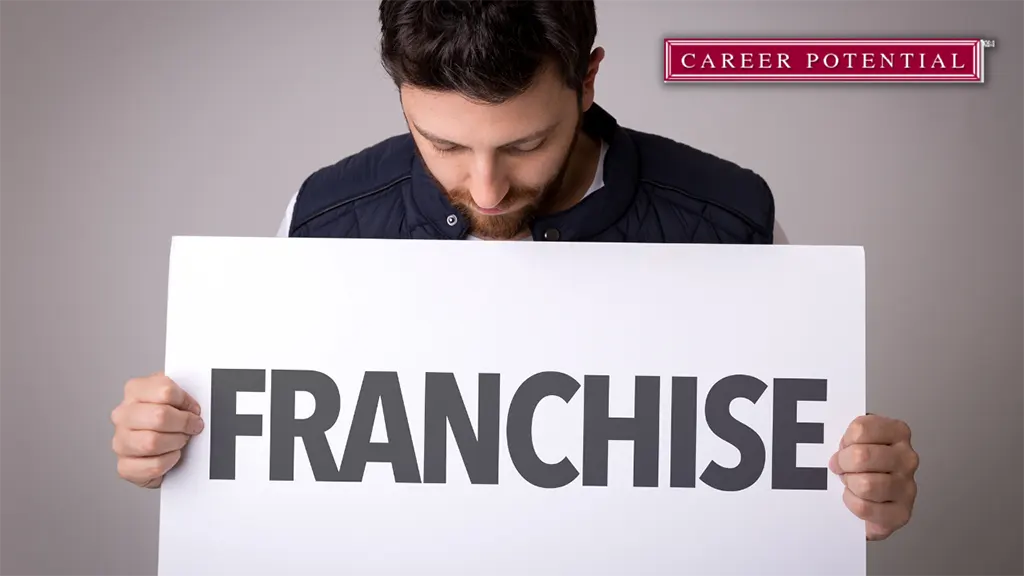 Why Franchising is so Popular
With the increasing instability and uncertainty in Corporate America and with a stock market that no longer offers the attractive investment opportunities it once did, franchising represents a great way to gain more control of your career and achieve your financial goals.
Business success requires going through a learning curve for the type of business you're in. With franchising, the franchise company has already gone through that process and is highly-motivated to share with you everything that has been learned. Franchises succeed because the franchisor has invested the resources to truly understand the business. There is a proven formula for success ready and waiting to be adopted by the new entrepreneur. How many non-franchise, independent businesses can say that?
And, because a franchise represents a large number of units with established track-records, the buyer has access to much more of the data required for sound investment decisions than would be available with a non-franchise start-up.
Being able to study the actual performance of identical business entities is invaluable! And so is the contact you'll have with other franchisees, who can provide real-world insights into what it takes to succeed in the specific business you've selected.
Primary Advantages of a Franchise Business
The marketplace has already "tested" the franchise and found it to be successful.
Franchises have up to a 90% success rate, as compared to the extremely high failure rate for non-franchised business start-ups.
You leverage the franchisor's established brand name and reputation.
Complete training and ongoing consulting are available from the franchisor.
Managerial, operational, accounting and technology systems are already in place to facilitate your success.
The franchisor has collective buying power and passes those discounts to you.
Marketing and advertising for the business are supplied by the franchisor.
Franchisors insist that you are adequately capitalized, which helps you avoid the most common reason for business failure.
Ongoing research and development are provided by the franchisor.
The franchisor provides expertise and guidance in researching and selecting the best location for your new business.
With a franchise, the timeframe to reach profitability is often shorter than it would typically be with a non-franchised business.
Franchises have a vested interest in your success. If you don't succeed, the franchisor won't succeed.
Franchise Facts
40% of the American workforce said they are considering self-employment — The study found that 40% of traditionally employed professionals said they are thinking about switching to self-employment, with nearly half that number saying self-employment is their top goal in life.
95% of self-employed Americans said they plan to stay self-employed for the foreseeable future. In addition, among owners of businesses less than two years old, nearly two out of three (63%) agreed that self-employment remains the best career choice in uncertain times such as the pandemic.
40% of entrepreneurs said COVID-19, at least in part, created the opportunity for their self-employment.
More than 60% of employees under 35 said they are considering self-employment in the next five years.
Following the 2020 shutdowns, output for franchises rebounded by over 16% in 2021, reaching nearly $788 billion in output.
Franchise growth stabilized in 2022, expanding by 2.2% to reach a total of 792,014 franchise establishments, 17,000 more than in 2021.
In 2021, franchise employment increased by 8.8% – adding more than 46,000 jobs per month.. Franchise employment is forecasted to grow at a slightly lower rate of 3.1% to a total of 8.5 million jobs, back to the pre-pandemic level, a net gain of up to 300,000 jobs.
Common Characteristics of Successful Franchise Owners
1. Low Tolerance for Risk
Many people think that to buy a franchisee, you need to be a gambler. Nothing could be farther from the truth. Successful franchisees — especially those recently downsized from corporate careers — like to avoid risk! Any business start-up involves some risk of failure. But a strong franchise with a proven track-record offers up to a 90% success rate, compared to all other business models. Successful franchisees do their homework so they know what they're getting into.
2. System Orientation
People coming from a corporate background are used to working within a formal structure and are familiar with organizational policies and procedures. Successful franchisees also have the ability and desire to follow a proven system. They don't want to "reinvent the wheel" or have to figure out the best way to do something. They want a system of operation that tells them the best way to do everything associated with the business.
3. Strong Work Ethic
Successful franchisees are highly motivated and willing to work hard to achieve success in their new business. This characteristic shows in their every action — putting in long hours, handling multiple tasks, and taking pride in a job done right. Top-performing franchisees know and accept this fact and are happy to do what it takes to create success, especially in the first few years while they're "getting their business off the ground."
4. Well-Funded
Investing severance pay in yourself, instead of the unpredictable stock market, is a great way to start a franchise. The franchisee must have enough liquid capital and adequate net worth to meet the franchisor's requirements. A good franchisor will not allow the potential franchisee to enter into the business without the proper level of the initial investment. The franchisee must also have good credit, which is essential in qualifying for a loan, if necessary.
5. Positive Attitude
Franchisors always look closely at the prospective franchisees' attitude. Are they asking many questions about failure in the business, or do they focus on how to succeed? Do they genuinely want to learn everything they can about the opportunity? Do they follow through on their commitments, and are they strongly motivated? Are they resourceful, consistent, self-directed, and professional in their approach? Are they "team players" who will work to make not only their own business successful but will also contribute to the continuing success of the whole franchise system?
6. Interpersonal Skills
Though this characteristic is listed last, it's probably the most important of all. Successful franchisees always have strong interpersonal skills — developed from years of working with various people in various positions. Franchisees need to enjoy spending time with other people. If they do not enjoy a lot of human interaction, they will tend to become stressed, which can decrease their chances of success over time.
Conclusion
If you've been laid-off, have always yearned to own your own business, or want to escape the "corporate rat race," consider the entrepreneurial alternative! Of course, this path is not for everyone. But franchising has never been more popular, and the range of opportunities has never been broader than it is right now. With so many exciting businesses to choose from, there's a franchise well-suited to almost any person or situation.
Ask yourself if you possess the qualities, desires and goals outlined above. If the answer is "yes," then franchising could very well be the solution you've been looking for!
About the Author:
Ford R. Myers is an award-winning career coach and President of Career Potential, LLC. He is author of the best-seller, Get The Job You Want, Even When No One's Hiring. Ford's firm helps clients take charge of their careers, create the work they love, and earn what they deserve! He has held senior consulting positions at three of the nation's largest career service firms. Ford's articles have appeared in thousands of publications and web sites, and he has been interviewed on every major television and radio network. Ford has also conducted presentations at hundreds of companies, associations and universities. Learn more at https://careerpotential.com.
Your e-mail address is safe with us! We will not share it with anyone else. See our detailed Privacy Policy.

To explore working with a professional Career Coach, register now for your free "Career Breakthrough Session" by clicking here.
Please visit my Blog and share your comments!