Best-selling career book shows you how to …
"Get The Job You Want, Even When No One's Hiring."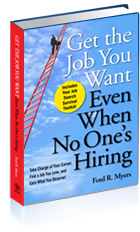 During the "Great Recession" of 2008-2009, the U.S. experienced its worst economy and job market since the Depression. A decade later, the Covid-19 Pandemic also caused unprecedented disruption in the work-world. While circumstances improved after each of these catastrophes, the employment picture continues to present real challenges. In many fields, it still seems that no one's hiring!
But there IS a solution, and your chances are BETTER than you think!
Get The Job You Want, Even When No One's Hiring maps the new world of job search and reveals a bold, new approach to career success!
Author Ford R. Myers shares insider secrets and innovative job-search tactics that readers won't find anywhere else. By reading this book and leveraging its resources, you'll be able to get the right job much faster, and with a lot less "pain."
Download Sample Chapter
Request a sample chapter, and get our online Job Search Survival Toolkit, and more – all 100% free!

Order now from your favorite online bookseller!
Click on one of the online bookseller links below.