These questions, and others like them, could "make or break" your next position:
How will you maximize your chances for success in the new job, and minimize your chances of failure?
How will you offer the highest level of contribution to the new organization?
How will you establish a positive and productive relationship with your new boss?
How will you build strong and effective teams?
How will you align with the company's business goals and priorities?
How will you continue learning, and expanding your positive impact at work?
It's vitally important to consider these topics "ahead of time" and prepare for the launch of the rest of your career.
Join us for this interactive workshop, during which we will discuss all the issues above, and set you up for success in your next position!
Here are the details:
DATE:  Monday, April 27 @ 9:00 am – 11:30 am  
COST: $25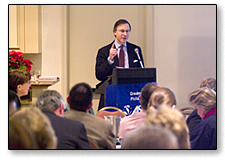 SPONSOR: Career Potential, LLC
PRESENTER: Ford R. Myers, President of Career Potential, LLC
WHO: Everyone is welcome!
LOCATION: Radnor Financial Center, 150 N. Radnor-Chester Road, Suite F-200, Radnor, PA
REGISTRATION: Advanced registration is required. Click HERE to register.
QUESTIONS: Call Ford at (610) 649-1778 or e-mail contact@careerpotential.com