Successful Job Search Strategies For Mature Workers – Part 2 of 2

3. Personal image. It's always important to look your best, and this is especially true when looking for a job. Pay close attention to your appearance. You can make a more positive impression by updating your hairstyle, eyeglasses, shoes and many other personal items. Your wardrobe may also need a "makeover" to look more stylish. Ask friends, family members and younger associates for candid feedback about your personal image, and welcome their comments non-defensively.
4. Company culture. Research the culture of your prospective employer. If everyone at the company is 20 to 30 years old, with rings through their noses and spiked blue hair, then the firm not likely to hire an older candidate like you. On the other hand, there are companies that have a reputation for attracting and hiring mature workers. These firms actually like to have "adult supervision," and they'll pay a premium for your greater levels of experience and wisdom. For example, The Week Magazine recently stated, "Aim for a sector that caters to older clientele, such as banking or tourism."
The CNNMoney article concluded by saying, "Some businesses do see the advantages of hiring older workers. Besides the opportunity to get the experience and lifetime of skills that older workers bring, they are actually more likely to stay put for longer than younger workers, thus reducing job turnover and the costs associated with hiring and training. Some analytical managers have figured this out. Unfortunately for older workers, it's not common knowledge just yet."
As the old saying goes, "The best defense is a strong offense." So, follow the suggestion from The Week Magazine's July 2, 2010 edition, which said, "Instead of hiding your age, go on the offensive and sell yourself as a mature person!"
To read the entire article, click here.
Click here to watch helpful career success videos!
About Ford Myers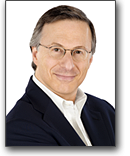 Ford R. Myers is an award-winning career coach and President of Career Potential, LLC. He is author of the best-seller, Get The Job You Want, Even When No One's Hiring. Ford's firm helps clients take charge of their careers, create the work they love, and earn what they deserve! He has held senior consulting positions at three of the nation's largest career service firms. Ford's articles have appeared in thousands of publications and web sites, and he has been interviewed on every major television and radio network. Ford has also conducted presentations at hundreds of companies, associations and universities. Learn more at https://careerpotential.com.
Your e-mail address is safe with us! We will not share it with anyone else. See our detailed Privacy Policy.