Welcome!
Career Potential, LLC has a long and successful track-record of working with corporations, non-profit organizations, universities and government agencies.
When it comes to helping employees with career development while they're part of your company, or guiding them through job changes and layoffs, Career Potential is passionate about client results.
Contact us today to discuss our programs and services in both Career Development and Career Transition.
We'd be happy to provide a complimentary initial consultation to determine how our professional resources will best address your business interests and your employees' needs.
My team and I are looking forward to working with you!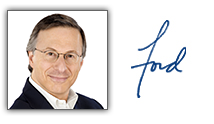 Ford R. Myers
President
Career Potential, LLC