Perpetual Career Management – Free Podclass – 7 Audio Modules
Learn the Top 10 Secrets Of Landing The Perfect Job And Building Long-Term Career Success, From A Nationally-Recognized Career Expert! Revealed For The First Time In A Powerful Audio Seminar.
Discover How To Chop Months Off Your Job Search, Boost Your Salary By At Least 25%, Get Promoted Faster, And Never Worry Again About Job Security Or Layoffs.
This course, created by Ford Myers of Career Potential, LLC, consisting of 7 segments includes:
1. The Concept of Perpetual Career Management : Master the art of "Perpetual Career Management," which can literally transform your career and give you the edge your competition doesn't have!
2. Success Documents and Scheduled Networking : Create your very own "success file" and "supercharge" your career growth through unconventional methods of networking!
3. Organization Leadership and Building Visibility : Boost your professional credibility and become "the expert" in your field by using a simple, but very effective tactic (which is used all the time by self-employed professionals)!
4. Career Development and Competitive Intelligence :Leverage the "competitive intelligence" in your industry, so that you'll always be at the front of the line when the time comes for employers to make decisions about hiring, promotion, and compensation!
5. Supporting Your Network and Assessing the Job Market : Build an "army" of people who truly want you to succeed, and get insiders' tips so you'll always know exactly who's hiring and for which positions!
6. Contributing More and Practicing Job Search Skills : Make yourself indispensable to your industry, and be at the top of your "career game" 100% of the time!
7. Program Review and Next Success Steps : Never worry again about job security or layoffs, and always have career options and a sense of control!
Click here to watch helpful career success videos!
About Ford Myers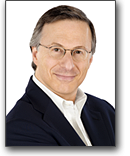 Ford R. Myers is an award-winning career coach and President of Career Potential, LLC. He is author of the best-seller, Get The Job You Want, Even When No One's Hiring. Ford's firm helps clients take charge of their careers, create the work they love, and earn what they deserve! He has held senior consulting positions at three of the nation's largest career service firms. Ford's articles have appeared in thousands of publications and web sites, and he has been interviewed on every major television and radio network. Ford has also conducted presentations at hundreds of companies, associations and universities. Learn more at https://careerpotential.com.
Your e-mail address is safe with us! We will not share it with anyone else. See our detailed Privacy Policy.