Get Hired Fast

Best-selling career book shows you how to ... "Get The Job You Want, Even When No One's Hiring." Career expert, Ford Myers, maps the new world of job search and reveals a bold, new approach to career success!
Career Breakthrough Session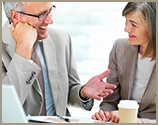 Are you a senior executive or accomplished professional who is serious about achieving your career potential? Have you been considering getting help with your job search or career management? If the answers to these questions are both "YES," then you're invited to participate in a free "Career Breakthrough Session."
This complimentary phone consultation is 100% focused on your career questions, issues, challenges and concerns. It's also a great way to determine if career coaching would be right for you. There's no fee or obligation, and no "sales pitch." Click below to see if you qualify for this powerful initial consultation!