Transferable Skills
January 28, 2016 @ 10:00 am

-

12:30 pm

$25
NOTE: This program is full and registration has been closed. Thank you for your interest.
Perhaps you're changing careers, or shifting roles in your company. Maybe the industry you've always worked in has been shrinking or is even disappearing. You may feel that there is "no hope" to break into a new field, or you may fear that you'll need to take a big step down in order to change your career direction.
By understanding and identifying your transferable (portable) skills, a new and better career can become a reality! In this seminar, you will:
Complete assessments to gain clarity about your passions, talents and work values
Examine your work history, volunteer work, interests, hobbies and other life experiences to identify your transferable skills
Gain information on the top skills necessary in today's job market
Examine best ways to market transferable skills through key career documents and in your presentation to potential employers
Learn what employers are really seeking in job candidates, and what careers are in most demand now
Understand what constitutes a transferable skill through the eyes of an employer
Review John Holland's career model to gain clarity about your personality as it relates to the current job market
Learn about online resources that help you identify transferable skills, along with key industries in which to find jobs
Incorporate key, transferable skills into your resume
Utilize recommended tools to further assist with identifying and leveraging transferable skills
Here are the details: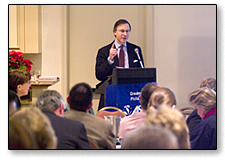 TIME: 10:00am to 12:30pm
SPONSOR: Career Potential, LLC
PRESENTER: Ford R. Myers, President of Career Potential, LLC
INVESTMENT: $25.00, pay with your online registration
WHO: Everyone is welcome!
LOCATION: Radnor Financial Center, 150 N. Radnor-Chester Road, Suite F-200, Radnor, PA
QUESTIONS: Call Ford at (610) 649-1778 or e-mail contact@careerpotential.com
About the Presenter:
Ford R. Myers is an Award-Winning Career Coach and author of the best-seller, Get The Job You Want, Even When No One's Hiring. Ford's firm, Career Potential, LLC, helps clients take charge of their careers, create the work they love, and earn what they deserve! He has held senior consulting positions at three of the nation's largest career service firms. Ford's articles and interviews have appeared in thousands of magazines, newspapers, web sites, television and radio networks. He has also conducted presentations at hundreds of companies, associations and universities. Learn more at www.careerpotential.com or contact Ford directly at (610) 649-1778.

Print Friendly