The Job Seeker's Toolkit Seminar
September 26, 2018 @ 10:00 am

-

12:30 pm

$25.00
Event Navigation
NOTE: This is a live, in-person event – not a webinar or teleseminar.
A carpenter would never show-up at a construction site with only a hammer. A graphic artist would never interview for a design position without showing a complete portfolio. So why is it that most job seekers use only their resume as the cornerstone of their search?
Job seekers over-emphasize the resume because their other "tools" are weak or nonexistent. But the resume should actually be one of your least used job-seeking tools! Unfortunately, most people don't know what these other tools are or how to use them.
By integrating these other elements into your job search – and not relying solely on the resume – you can add power, professionalism and flexibility to your efforts. Finding the right job and building a satisfying career is much easier when you have the right tools!
This is a practical seminar that is designed to provide tangible solutions, with "real world" case studies and examples. We will examine the specific tools you need and how to create them – not just to land the next job – but to master the search process and maximize your long-term career potential. Don't miss this unique and helpful workshop!
Here are the details: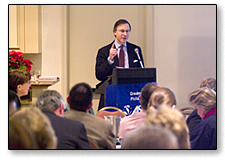 DATE: Wednesday, September 26, 2018
TIME: 10:00am to 12:30pm
SPONSOR: Career Potential, LLC
PRESENTER: Ford R. Myers, President of Career Potential, LLC
INVESTMENT: $25.00, pay with your online registration
WHO: Everyone is welcome!
LOCATION: Radnor Financial Center, 150 N. Radnor-Chester Road, Suite F-200, Radnor, PA
REGISTRATION: Advanced registration is required. Click the red button below to register.
DIRECTIONS: Click here
QUESTIONS: Call Ford at (610) 649-1778 or e-mail contact@careerpotential.com
This is also an opportunity to get some of your career questions answered, and make new networking contacts! If you'd like to improve your career situation, you'll find this presentation to be particularly relevant and helpful. Please pass this invitation along to anyone else who might benefit from this powerful seminar.
About the Presenter:
[text-blocks id="presenter-ford"]