10 Vital Strategies To Maximize Your Career Success
January 24, 2019 @ 10:00 am

-

12:30 pm

$25.00
Event Navigation
NOTE: This is a live, in-person event – not a webinar or teleseminar.
What if you could discover the "secrets" that determine who will reach full potential in their career, and who will not? That's exactly what this powerful presentation reveals. Real success is achieved not just in knowing these "insider strategies," but in applying them in a consistent, systematic manner.
Career expert and author Ford R. Myers will show you exactly how to leverage these 10 powerful strategies, to help you move your career forward – no matter what level you've already achieved in your profession.
Here are the details: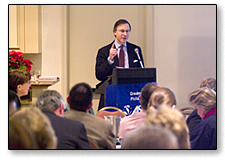 DATE: Thursday, January 24, 2019
TIME: 10:00am to 12:30pm
SPONSOR: Career Potential, LLC
PRESENTER: Ford R. Myers, President of Career Potential, LLC
INVESTMENT: $25.00, pay with your online registration
WHO: Everyone is welcome!
LOCATION: Radnor Financial Center, 150 N. Radnor-Chester Road, Suite F-200, Radnor, PA
REGISTRATION: Advanced registration is required. Click the red button below to register.
DIRECTIONS: Click here
QUESTIONS: Call Ford at (610) 649-1778 or e-mail contact@careerpotential.com
This is also an opportunity to get some of your career questions answered, and make new networking contacts! If you'd like to improve your career situation, you'll find this presentation to be particularly relevant and helpful. Please pass this invitation along to anyone else who might benefit from this powerful seminar.
About the Presenter:
Ford R. Myers is an Award-Winning Career Coach and author of the best-seller, Get The Job You Want, Even When No One's Hiring. Ford's firm, Career Potential, LLC, helps clients take charge of their careers, create the work they love, and earn what they deserve! He has held senior consulting positions at three of the nation's largest career service firms. Ford's articles and interviews have appeared in thousands of magazines, newspapers, web sites, television and radio networks. He has also conducted presentations at hundreds of companies, associations and universities. Learn more at www.careerpotential.com or contact Ford directly at (610) 649-1778.

Print Friendly