Salary Negotiation: The Rules of the Game
July 27, 2017 @ 10:00 am

-

12:30 pm

$25.00
Event Navigation
NOTE: This is a live, in-person event – not a webinar or teleseminar.
Why is it that people have such a difficult time successfully negotiating their compensation? The reason we can't or won't negotiate is not because we're incapable of doing so, but rather because we just don't know how! No one ever taught us "the rules of the game!" For the purposes of this presentation, we look at negotiation as a game. And as with any game, we can't win if we don't know the rules.
This is a very practical, "real world" seminar that has always been one of our most popular programs! Invest a few hours in this event, and make a "quantum leap" in your salary. Join us to master the rules of the salary negotiation game – a game that can actually be fun, as well as financially rewarding!
Participants will learn how to:
Dramatically improve their negotiations, and command much higher compensation
Dispel the myths and misconceptions that most candidates believe about salary negotiation
Position your negotiating ability as a strength and an asset to your prospective employer
Master the "21 Rules of the Game" in negotiating your compensation
Leverage the most important, yet most simple, formula to prepare for negotiations
Use the specific phrases and behaviors that produce outstanding negotiation results
Align your accomplishments with the employer's needs and problems for a "win-win" outcome
Successfully negotiate any and all elements of the job offer
Assess the real value of a job offer, and choose between multiple offers
Prevent the employer from using your old salary to limit your future compensation
Here are the details: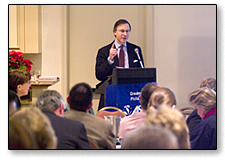 DATE: Thursday, July 27, 2017
TIME: 10:00am to 12:30pm
SPONSOR: Career Potential, LLC
PRESENTER: Ford R. Myers, President of Career Potential, LLC
INVESTMENT: $25.00, pay with your online registration
WHO: Everyone is welcome!
LOCATION: Radnor Financial Center, 150 N. Radnor-Chester Road, Suite F-200, Radnor, PA
REGISTRATION: Advanced registration is required. Click the red button below to register.
DIRECTIONS: Click here
QUESTIONS: Call Ford at (610) 649-1778 or e-mail contact@careerpotential.com
About the Presenter:
[text-blocks id="presenter-ford"]
This is also an opportunity to get some of your career questions answered, and make new networking contacts! If you'd like to improve your career situation, you'll find this presentation to be particularly relevant and helpful. Please pass this invitation along to anyone else who might benefit from this powerful seminar.