Retirement: A Natural Evolution of Career Development
April 30, 2019 @ 10:00 am

-

12:30 pm

$25.00
NOTE: This is a live, in-person event – not a webinar or teleseminar.
Who do you want to be in retirement? How will you create a rewarding and satisfying retirement? It's not too early to start asking these questions!
Traditionally, retirement meant leaving your long-term job with a pat on the back and a gold watch – "liberated" to pursue nothing more than rest and relaxation. But retirement is actually an opportunity to experience transformation and renewal.
This presentation delves into the ways that retirement impacts every facet of your life. We will explore how retirement can be viewed as a natural evolution of career development. Attendees will learn what it takes to create a meaningful retirement, and will discover:
How different retirement is now than it was in the past, and how planning your retirement is as vital as it was to plan your career
How unprepared most people are for the loss of work identity, and how to still enjoy fulfillment and purpose in retirement
Why retirement should be seen not as a one-time event, but as an evolutionary process
The powerful questions you should ask about this next life-stage – and how your answers can shape your ideal retirement
How retirement provides the freedom to follow your passions – and allows for continuing personal growth
It's time to change the way we view retirement. Rather than an ending, retirement should be a new beginning. Don't retire FROM something, retire TO something wonderful. What will that "something" be for you?
Here are the details: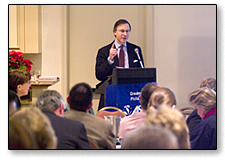 DATE: Tuesday, April 30, 2019
TIME: 10:00am to 12:30pm
SPONSOR: Career Potential, LLC
PRESENTER: Ford R. Myers, President of Career Potential, LLC
INVESTMENT: $25.00, pay with your online registration
WHO: Everyone is welcome!
LOCATION: Radnor Financial Center, 150 N. Radnor-Chester Road, Suite F-200, Radnor, PA
REGISTRATION: Advanced registration is required. Click the red button below to register.
DIRECTIONS: Click here
QUESTIONS: Call Ford at (610) 649-1778 or e-mail contact@careerpotential.com
This is also an opportunity to get some of your career questions answered, and make new networking contacts! If you'd like to improve your career situation, you'll find this presentation to be particularly relevant and helpful. Please pass this invitation along to anyone else who might benefit from this powerful seminar.
About the Presenter:
Ford R. Myers is an award-winning Career Coach and Certified Retirement Coach. He is author of the best-seller, Get The Job You Want, Even When No One's Hiring. Ford's firm, Career Potential, LLC, helps clients take charge of their careers, create the work they love, and earn what they deserve! He has held senior consulting positions at three of the nation's largest career service firms. Ford's articles and interviews have appeared in thousands of magazines, newspapers, web sites, television and radio networks. He has also conducted presentations at hundreds of companies, associations and universities. Learn more at www.careerpotential.com or contact Ford directly at (610) 649-1778

Print Friendly