Re-Discovering Your Career Passion
June 1, 2015 @ 9:00 am

-

11:30 am
Do you ever feel like you've lost touch with the enthusiasm and passion you once felt about your career?
Remember when you were just starting-out at your first job, or you were a recent graduate? You probably thought you'd be able to get all sorts of jobs; and that every employer would want to hire you. You were excited about your prospects and believed that you had something wonderful to share.
But now that you've been in the work-world for quite a while, and have had a series of jobs with several different companies, have you become cynical or resigned in your work-attitude? Are you unsure as to which direction to turn next?
As a professional Career Coach, I have found that this loss of career passion and enthusiasm is very common – and it's one of my most troubling observations.
To address this problem, I developed a series of enlightening and enjoyable exercises. These exercises will help you understand why and how you lost your career passion, and what steps you need to get it back. You'll learn how to align your current career direction with your true gifts, goals and preferences. It's never too late to re-connect with your career passion – as long as you have the right resources and support!
If you're thinking, "It's too late for me," I'd like to challenge you on that assumption. Allow me to get you on the path toward re-discovering the career of your dreams!
Are you ready? Join us for this interactive, dynamic career event.
Here are the details: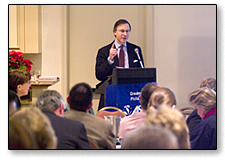 SPONSOR: Career Potential, LLC
PRESENTER: Ford R. Myers, President of Career Potential, LLC
INVESTMENT: $25.00, pay with your online registration
WHO: Everyone is welcome!
LOCATION: Radnor Financial Center, 150 N. Radnor-Chester Road, Suite F-200, Radnor, PA
REGISTRATION: Advanced registration is required. Click the red button below to register.
DIRECTIONS: Click here
QUESTIONS: Call Ford at (610) 649-1778 or e-mail contact@careerpotential.com
About the Presenter:
[text-blocks id="presenter-ford"]