The Power of "Pull Marketing" in Your Job Search
January 25, 2018 @ 10:00 am

-

12:30 pm
NOTE: This is a live, in-person event – not a webinar or teleseminar.
When searching for a new job, would you rather "chase after employers," or have employers "chasing after you?" The choice is YOURS, and you CAN conduct your job search in such a way that employers take the first step by reaching out to you.
Traditional job search methods include sending-out resumes, applying for jobs online, attending job fairs, contacting employers and recruiters and networking. All of these tasks, collectively, fall under the heading "Push Marketing." This is because you're "pushing" your message, hoping that someone will take notice. Even if you do make contact, however, you'll still have to "convince" the employer of your worthiness. This is the downside of "Push Marketing."
But when employers perceive you as an expert and discover your credibility "on their own," they'll tend to feel "pulled" toward you and even pursue you. This is the primary benefit of "Pull Marketing."
YOU can be known as an expert, regardless of your professional background or level. The process begins with a fundamental shift in attitude, assumptions and behavior. To succeed with "Pull Marketing," you'll need to:
Stop acting like an applicant, and start acting more like an expert
Stop behaving like a candidate, and start behaving like a consultant
Stop being a job seeker, and start being a problem solver
Stop making it all about you/your needs, and start making it all about them/their needs
Don't miss this unique seminar, where you'll learn how to make this critical shift. You'll discover the specific tactics, strategies and tools to master "Pull Marketing" in your job search and long-term career management.
Your shift to "Pull Marketing" may require some extra time and effort "up front," but the results will be worth it. This new approach offers you greater control over the entire hiring process. Best of all, you may never have to search for another job in your life!
Here are the details: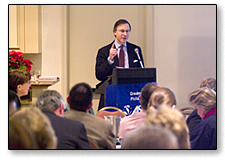 DATE: Thursday, January 25, 2018
TIME: 10:00am to 12:30pm
SPONSOR: Career Potential, LLC
PRESENTER: Ford R. Myers, President of Career Potential, LLC
INVESTMENT: $25.00, pay with your online registration
WHO: Everyone is welcome!
LOCATION: Radnor Financial Center, 150 N. Radnor-Chester Road, Suite F-200, Radnor, PA
REGISTRATION: Advanced registration is required. Click the red button below to register.
DIRECTIONS: Click here
QUESTIONS: Call Ford at (610) 649-1778 or e-mail contact@careerpotential.com
REGISTRATION CLOSED
About the Presenter:
[text-blocks id="presenter-ford"]
This is also an opportunity to get some of your career questions answered, and make new networking contacts! If you'd like to improve your career situation, you'll find this presentation to be particularly relevant and helpful. Please pass this invitation along to anyone else who might benefit from this powerful seminar.