Networking: The Core of Your Career
July 22, 2019 @ 10:00 am

-

12:30 pm

$25.00
NOTE: This is a live, in-person event – not a webinar or teleseminar.
You'll look at your friends, family members, even your dry cleaner in a whole new light after this powerful seminar!
One of the keys to managing your career effectively is to build and maintain a strong and varied network. Every job seeker – and even those who are currently employed – should carve time out of their busy schedules for networking!
Your network is your most valuable career asset! (Far more important than a résumé). You'll learn how to cultivate this often-overlooked and underdeveloped resource into a positive and dynamic tool to create long-term career success.
Every networking encounter will now be treated like a business meeting, complete with a purpose, an agenda and specific outcomes.
By leveraging your network in the proper way, you may never have to look for a job again. You'll get the jobs you want, and even know how to have a position created for you!
Sign-up now for this special event, and master the single most important element of your career and job search – networking!
Here are the details: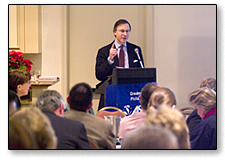 DATE: Monday, July 22, 2019
TIME: 10:00am to 12:30pm
SPONSOR: Career Potential, LLC
PRESENTER: Ford R. Myers, President of Career Potential, LLC
INVESTMENT: $25.00, pay with your online registration
WHO: Everyone is welcome!
LOCATION: Radnor Financial Center, 150 N. Radnor-Chester Road, Suite F-200, Radnor, PA
REGISTRATION: Advanced registration is required. Click the red button below to register.
DIRECTIONS: Click here
QUESTIONS: Call Ford at (610) 649-1778 or e-mail contact@careerpotential.com
This is also an opportunity to get some of your career questions answered, and make new networking contacts! If you'd like to improve your career situation, you'll find this presentation to be particularly relevant and helpful. Please pass this invitation along to anyone else who might benefit from this powerful seminar.
About the Presenter:
Ford R. Myers is an Award-Winning Career Coach and author of the best-seller, Get The Job You Want, Even When No One's Hiring. Ford's firm, Career Potential, LLC, helps clients take charge of their careers, create the work they love, and earn what they deserve! He has held senior consulting positions at three of the nation's largest career service firms. Ford's articles and interviews have appeared in thousands of magazines, newspapers, web sites, television and radio networks. He has also conducted presentations at hundreds of companies, associations and universities. Learn more at www.careerpotential.com or contact Ford directly at (610) 649-1778.

Print Friendly