How to Stand-Out in a Very Competitive Job Market
April 26, 2018 @ 10:00 am

-

12:30 pm

$25
NOTE: This is a live, in-person event – not a webinar or teleseminar.
The subtle differences in every step of the job search process determine who ultimately lands the job and who does not. This is especially true when the job market is as competitive as it is now. In this powerful seminar, you will:
Learn how to properly communicate your value to prospective employers
Master key strategies to help you in the job search
Discover tools to gain access to your target market
Get advice on the latest resume techniques and recommended formats
Delve into the critical pre-interview planning process
In short, this presentation will show you how to stand-out as the candidate of choice, and get the offer!
Here are the details: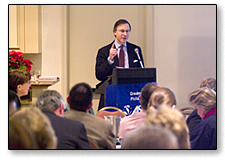 DATE: Thursday, April 26, 2018
TIME: 10:00am to 12:30pm
SPONSOR: Career Potential, LLC
PRESENTER: Ford R. Myers, President of Career Potential, LLC
INVESTMENT: $25.00, pay with your online registration
WHO: Everyone is welcome!
LOCATION: Radnor Financial Center, 150 N. Radnor-Chester Road, Suite F-200, Radnor, PA
REGISTRATION: Advanced registration is required. Click the red button below to register.
DIRECTIONS: Click here
QUESTIONS: Call Ford at (610) 649-1778 or e-mail contact@careerpotential.com
About the Presenter:
Ford R. Myers is an Award-Winning Career Coach and author of the best-seller, Get The Job You Want, Even When No One's Hiring. Ford's firm, Career Potential, LLC, helps clients take charge of their careers, create the work they love, and earn what they deserve! He has held senior consulting positions at three of the nation's largest career service firms. Ford's articles and interviews have appeared in thousands of magazines, newspapers, web sites, television and radio networks. He has also conducted presentations at hundreds of companies, associations and universities. Learn more at www.careerpotential.com or contact Ford directly at (610) 649-1778.
This is also an opportunity to get some of your career questions answered, and make new networking contacts! If you'd like to improve your career situation, you'll find this presentation to be particularly relevant and helpful. Please pass this invitation along to anyone else who might benefit from this powerful seminar.

Print Friendly