Accomplishment Stories: Your Most Powerful Tool to Get the Job Offer
October 29, 2015 @ 9:00 am

-

11:30 am

$25
Remember a time when you heard a friend or colleague tell a memorable story? You can probably still recall some of the details about that story long after it was shared. Good storytelling creates a vivid picture and a positive response in the listener's mind. Utilizing stories to enhance your job search is a skill that is often overlooked. Yet, without powerful accomplishment stories to tell prospective employers, you have almost nothing to "sell." When you can effectively tie your accomplishment stories directly to the employer's needs and problems, you will most likely get a job offer!
Many of us feel that the stories about our work life are not interesting. Others struggle to come-up with any accomplishment stories at all. This seminar will show you exactly how to identify and develop your own compelling accomplishment stories – stories that will become your most powerful "selling tools."
Attend this presentation and you will learn to: 
Master the structure and components of a good accomplishment story.
Succinctly tell a compelling accomplishment story.
Match your accomplishment stories directly with the company's needs and problems.
Leverage accomplishment stories as the most critical tool in the job search process.
Uncover your own "hidden" accomplishment stories. (You will develop actual accomplishment stories at this workshop).
Summarize your accomplishment stories into "bullet statements" for your resume.
Weave your accomplishment stories seamlessly into the interview.
Recognize the "prompts" to respond with an accomplishment story.
Without compelling Accomplishment Stories, you have very little chance of acing the interview and getting the offer. Join us for this highly-interactive and practical "working session," to develop your own Accomplishment Stories!
Here are the details: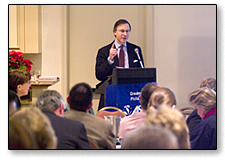 SPONSOR: Career Potential, LLC
PRESENTER: Ford R. Myers, President of Career Potential, LLC
INVESTMENT: $25.00, pay with your online registration
WHO: Everyone is welcome!
LOCATION: Radnor Financial Center, 150 N. Radnor-Chester Road, Suite F-200, Radnor, PA
REGISTRATION: Advanced registration is required. Click the red button below to register.
DIRECTIONS: Click here
QUESTIONS: Call Ford at (610) 649-1778 or e-mail contact@careerpotential.com
About the Presenter:
[text-blocks id="presenter-ford"]