Career Seminars CD

Clients are always asking how they can "ace" the
interview, get the offer and negotiate the highest salary! So, to answer these important questions, career expert Ford R. Myers recorded his two most popular seminars on one audio CD:
1. Negotiating Your Compensation: The Rules of the Game
2. The Job Seeker's Tool Kit
Listening to this one CD will help you chop months off your job search, boost your salary by at least 25%, get promoted faster, and never worry again about job security or layoffs.
Attending these two seminars live would cost you up to $300.00, but this unique CD is available to you now for only $37.00!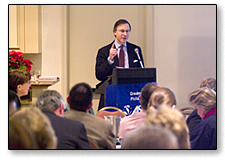 Here is a brief overview of what you'll learn by listening to these powerful presentations:
Negotiating Your Compensation:
The Rules of the Game
Have you ever heard people say that they "just can't do salary negotiating?" Or, that "negotiating compensation makes them uncomfortable?" (Perhaps you've even said these things yourself!)
Compensation is a very serious subject, but for the purposes of this seminar, we look at negotiation as a game. And as with any game, we can't win if we don't know the rules!
This presentation reveals how to dramatically improve the results of your salary negotiations. It's a very practical, "real world" program that focuses on mastering the rules of the negotiation game – a game that can actually be fun, as well as financially rewarding!
The Job Seeker's Tool Kit
Job seekers usually over-emphasize the resume because their other "tools" are weak or nonexistent. But the resume should actually be one of your least used job-seeking tools!
By integrating many other elements into the job search – and not relying solely on your resume – you can add power, professionalism and flexibility to your efforts.
This is a practical seminar that highlights the specific tools you need and explains exactly how to use them – not just to land the next job – but to master the search process and maximize your long-term career potential.



Get a FREE review and critique of your resume when you buy your Career Seminars CD!
Only $37.00
100% Risk-Free, Money Back Guarantee
Order the Career Seminars CD now, and if you're not 100% satisfied, just return it in re-saleable condition within one month (30 days) of your date of purchase. Your full purchase price will be promptly refunded!