13 Good Reasons Why You Need a Printed Interview Presentation – Part 1 of 2
By Eric P. Kramer
Senior Consultant, Career Potential, LLC
"Men trust their ears less than their eyes."
– Herodotus, Greek Historian
In our executive career coaching practice, we teach clients how to develop and use a tool called an "Interview Presentation." It serves many important purposes, most of which are outlined below. Perhaps the real power of the Interview Presentation is that it clearly ties the candidate's experience, strengths and results directly to the company's needs, problems and challenges. This, of course, leads to many more job offers!
The Interview Presentation enables you to prepare for your interview and gives you a structure to powerfully guide (not control) the interview. There is no other interview tool or strategy you can use that has the same interview-winning impact. A printed presentation works extremely well in the interview in many ways, including the following:
It communicates that you are well-prepared and highly-motivated for the interview.
It clearly differentiates you from other candidates.
It shows your ability to compile and communicate pertinent information in focused, succinct manner.
It demonstrates the important job-related behaviors of presenting information and responding to questions.
It contains the information the employer needs to know to make an informed hiring decision.
It visually increases the hiring manger's retention.
It reduces the hiring manager's FUD level (fear, uncertainty and doubt), and makes it easier for her to hire you.
It serves as a powerful leave-behind that the interviewer can refer to as she begins to compare candidates.
Click here to watch helpful career success videos!
To read the entire article, click here!
About Ford Myers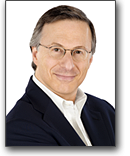 Ford R. Myers is an award-winning career coach and President of Career Potential, LLC. He is author of the best-seller, Get The Job You Want, Even When No One's Hiring. Ford's firm helps clients take charge of their careers, create the work they love, and earn what they deserve! He has held senior consulting positions at three of the nation's largest career service firms. Ford's articles have appeared in thousands of publications and web sites, and he has been interviewed on every major television and radio network. Ford has also conducted presentations at hundreds of companies, associations and universities. Learn more at https://careerpotential.com.
Your e-mail address is safe with us! We will not share it with anyone else. See our detailed Privacy Policy.