Public Career Seminar
You're invited to attend a special career seminar, titled:
Accomplishment Stories – Your Most Powerful Tool to Get the Job Offer
Remember a time when you heard a friend or colleague tell a memorable story? You can probably still recall some of the details about that story long after it was shared. Good storytelling creates a vivid picture and a positive response in the listener's mind. Utilizing stories to enhance your job search is a skill that is often overlooked. Yet, without powerful accomplishment stories to tell prospective employers, you have almost nothing to "sell." When you can effectively tie your accomplishment stories directly to the employer's needs and problems, you will most likely get a job offer!
Many of us feel that the stories about our work life are not interesting. Others struggle to come-up with any accomplishment stories in the first place. This seminar will show you exactly how to identify and develop your own compelling accomplishment stories – stories that will become your most powerful "selling tools."
Attend this presentation and you will learn to:
Master the structure and components of a good accomplishment story.
Succinctly tell a compelling accomplishment story.
Match your accomplishment stories directly with the company's needs and problems.
Leverage accomplishment stories as the most critical tool in the job search process.
Uncover your own "hidden" accomplishment stories. (You will develop actual accomplishment stories at this workshop).
Summarize your accomplishment stories into "bullet statements" for your resume.
Weave your accomplishment stories seamlessly into the interview.
Recognize the "prompts" to respond with an accomplishment story.
Seats are limited, so register now.
Here are the details: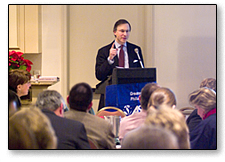 DATE:
 Thursday, March 27, 2014
TIME:
 9:00am to 11:30am
SPONSOR:
Career Potential, LLC
PRESENTER:
 Ford R. Myers, President of Career Potential, LLC
INVESTMENT:
$25.00, pay with your online registration
WHO:
Everyone is welcome!
LOCATION:
 Radnor Financial Center
150 N. Radnor-Chester Road, Suite F-200, Radnor, PA
REGISTRATION:
Advanced registration is required and seats are limited.
Click here to register
or call 610-649-1778.
DIRECTIONS:
Click here for directions
.
QUESTIONS:
 Call Ford at (610) 649-1778 or e-mail 
contact@careerpotential.com
.
Seats are limited, so register now!
This is also an opportunity to get some of your career questions answered, and make new networking contacts!
If you'd like to improve your career situation, you'll find this presentation to be particularly relevant and helpful.
Please pass this invitation along to anyone else who might benefit from this powerful seminar.

About the Presenter:
Ford R. Myers is President of Career Potential, LLC. His firm helps clients take charge of their careers, create the work they love, and earn what they deserve! Ford has held senior consulting positions at three of the nation's largest career service firms. His articles and interviews have appeared in many national magazines and newspapers, and he has conducted presentations at numerous companies, associations and universities. In addition, Ford has been a frequent guest on television and radio programs across the country. He is author of two books: "Get the Job You Want, Even When No One's Hiring" and "The Ultimate Career Guide."
Your e-mail address is safe with us! We will not share it with anyone else. See our detailed Privacy Policy.